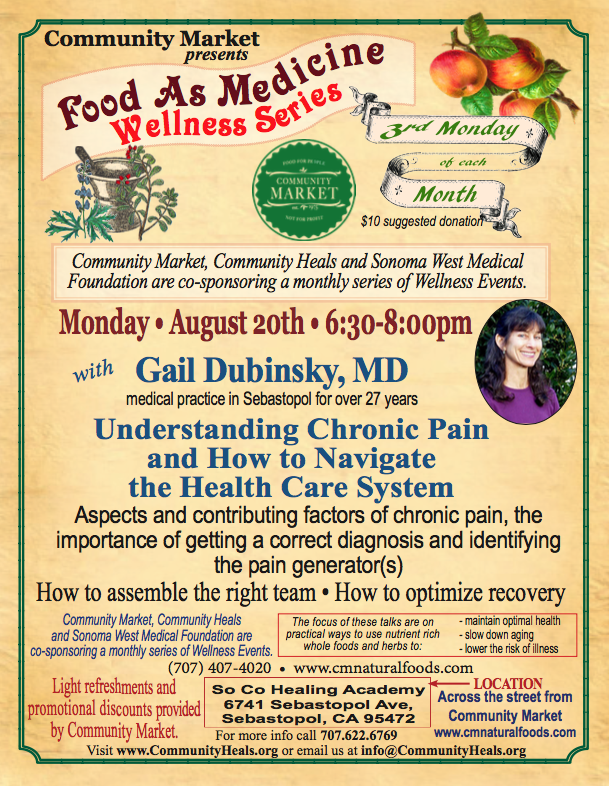 When you consider treatment for chronic pain and "pain management", what usually comes to mind is heavy doses of prescription drugs and interventions involving needles and cortisone. The multidisciplinary pain programs that consider other aspects of mind, body, lifestyle and spirit are few and far between, largely due to a lack of insurance reimbursement for what would be ultimately more cost effective and healing care).
However, it is possible to gather one's own team of health care practitioners, create one's own customized program, and make the lifestyle changes that will support healing, even in the absence of a cure. A "big picture" comprehensive approach will need to identify the mechanical and anatomical pain generator(s), taking into account possible structural and or nerve damage or involvement. Inflammation plays a large role, not just localized but systemic and even in the nervous system itself. Depression/ anxiety, stress and chronic pain are tightly linked in a chicken/egg relationship. Endocrine balance of adrenal, sex and thyroid hormones can be disrupted, as well as sleep and social relationships.
To complement the healing process, it is important to incorporate an anti-inflammatory nutrient dense diet, selected supplements and herbs, exercise and movement appropriate to the particular individual, hands on and/or energy healing modalities, rebuilding and balancing the hormonal system, particularly the adrenals; maximize detoxification pathways, learn stress reduction and coping skills, and at times seek out support groups, counseling, or trauma therapy to deal with past emotional wounds that have impacted the psychoneuroimmune system.
I will be speaking on "Understanding Chronic Pain and How to Navigate the Health Care System" as part of the "Food as Medicine" series, jointly presented by Community Market and CommunityHeals, at Sonoma County Healing Academy in Sebastopol, Monday August 20 at 6:30 PM. Please see the attached flyer for more information. I look forward to seeing you there and invite you to be part of the discussion!